Evaluate the strength, resistance to fatigue, and burst acceleration resistance of materials by subjecting them to centrifugal force through rotation of the component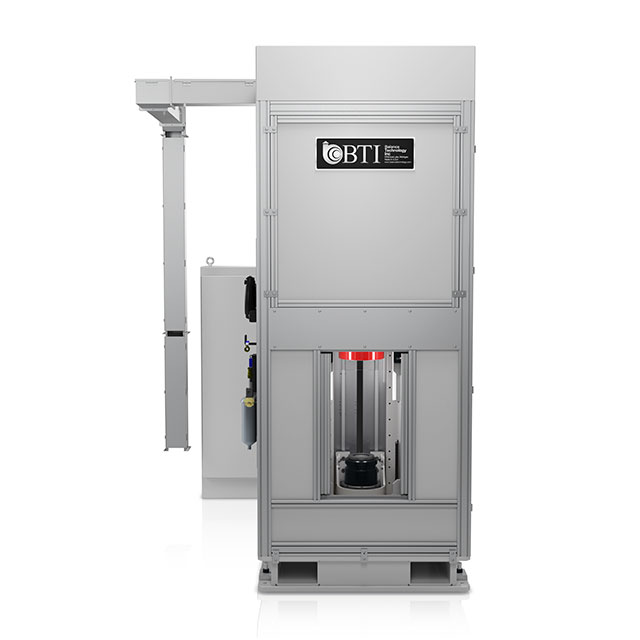 Balance Technology Spin Testing Equipment
Spin test systems are used to test the strength and durability of rotating components by subjecting them to centrifugal force. These test stands are specifically designed for the development, production, and quality assurance of a variety of items, including electric vehicle components, such as EV rotors. Our spin test systems can be customized to meet desired product specifications.
The component to be spun is held during the spin process by a spring-loaded, pneumatically released part chuck.
Rotor Load & Lift Mechanism
A custom radial bearing is mounted to a servo-electric actuator that raises the loaded component into the spin processing position.
Each spinner comes equipped with a fixed enclosure mounted at the base, encasing the entire machine. Rear service doors allow access for maintenance and are safety interlocked. A pneumatically actuated vertical access door allows for part loading and unloading by a robot or operator.
BTI's unique ability to combine technologies enables our clients to reduce capital expenditures, increase product quality, and minimize floor space requirements.
Superior Quality
Since 1968, our company has set the standard in industrial precision measurement and testing. We specialize in custom-built, combination machines designed to meet your exact specifications.
industrial computers & plcs
All solutions are equipped with an industrial BTI computer. Additionally, we offer Programmable Logic Controller upgrades, delivering advanced control software to meet the most demanding applications and specifications.
engineering expertise
Our experienced engineering team — comprised of more than 50 specialty engineers — ensures unsurpassed quality and access to the expert knowledge you need.
international reach
More than 13,000 systems shipped worldwide. No matter your location, our international presence enables us to bring precision, efficiency, and reliability to your manufacturing floor.
Contact us for your spin testing equipment needs
Please contact us to discuss your requirements and we will introduce you to one of our internal specialists to determine the most suitable solution for your specific situation.
"*" indicates required fields